Inside a Rainbow

Annual Schools' Exhibition at Grundy Art Gallery, Blackpool
15 January - 25 March 2023
Since September 2022 Fiona Grady been working closely with Grundy Art Gallery in Blackpool. She was invited to spend time in Blackpool researching the town's connection to light. During this time she created
Illuminated from Within
a site-responsive installation for the Gallery's Forecourt and lead a series of workshops with local residents and school children.
Grundy Art Gallery's annual Schools' Exhibition provides an opportunity for schoolchildren from Blackpool and Fylde Coast schools to work with a contemporary artist to produce their own work. Artworks are then displayed as part of the Grundy's ongoing exhibition and events programme.
Previous exhibitions have seen schoolchildren working with drawing, painting, animation, and new media. For Winter 2023, the young artists worked with Fiona Grady to explore techniques related to sculpture and installation.
Inside a Rainbow, 2023
Installation view at Grundy Art Gallery

In December 2022, 60+ schoolchildren from St. John Vianney Primary School, Devonshire Primary Academy and Mereside Primary Academy visited the Grundy to have a tour of the Winter 2022 exhibition programme that focused on 'light'. As part of this, the children experienced Fiona Grady's exhibition, Illuminated from Within, which can still be seen outside the Grundy as part of the Grundy's Forecourt Commission Programme. In follow up workshops the children met the artist and heard her talk about how her work explores shape, colour, light and movement in relation to the space in which it is presented. The children were then invited to creatively respond to what they had heard and experienced by making their own artworks. Using coloured and mirrored self-adhesive vinyl and circular and square shaped acrylic panels, the children explored colour, composition and collage as well as experimenting with effects of light and movement. The artworks were made using vinyl off-cuts from Fiona's installation and recycled greencast perspex shapes. As part of the project she talked to the students about repurposing materials and avoiding wastage in line with her sustainability goals.

Installed together at Grundy Art Gallery, the 60+ artworks generate a cascade of colourful moving shadows, showing how magical effects can be created from the simplest of materials and techniques.

One of the participating children inspired the title for this year's schools exhibition by describing the experience of seeing Fiona Grady's exhibition, Illuminated from Within, as like being, "inside a rainbow".

Thank you to the team at Grundy Art Gallery, Blackpool Library, the schools and Blackpool Town Council for supporting this project.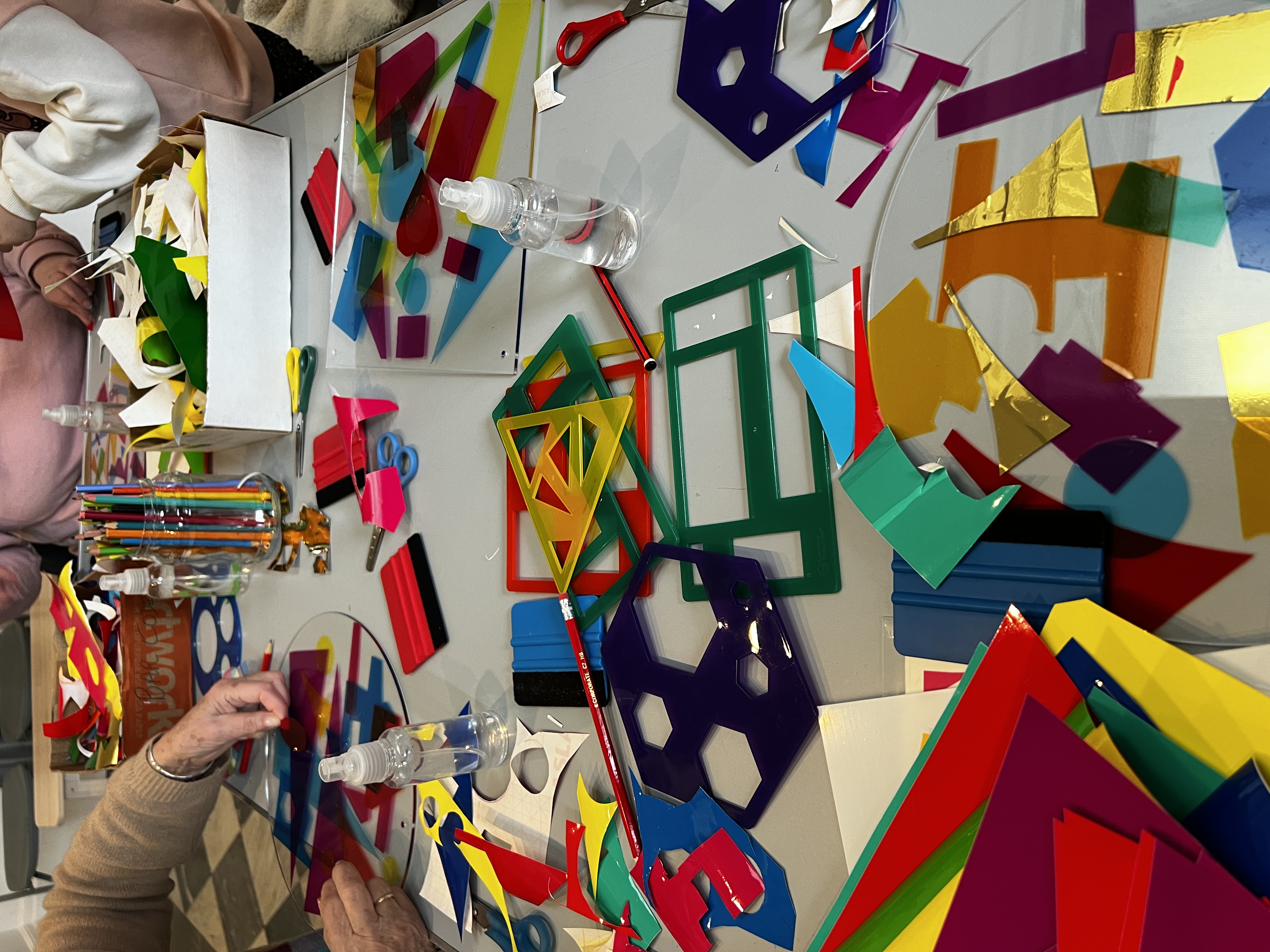 Photos © The Artist and Grundy Art Gallery
'Like a Rainbow' includes 60+ recycled acrylic panels with transparent vinyl collages using off-cuts from Fiona Grady's artwork. Each unique artwork is made by the school pupils age 7-11 years old. To find out more about Fiona's education projects please get in touch.
All content © Fiona Grady 2023