Capturing Light

Solo Exhibition at The Foundry Gallery, London
Summer 2022
For her exhibition C
apturing Light,
Fiona Grady explored our relationship with natural light and connected The Foundry Gallery to it's surrounding environment of Old Church Street; one of the oldest streets in London's Chelsea. The project was developed from Grady's research into the window as an architectural device, that not only filters light, but also act as a framework that connects the outside world with the inside.
Freed from the burden of representation, Grady's artworks have been created through problem solving and reductionist techniques of her own invention. Her designs related to the architecture in and around the site of her artworks, highlighting the character and architectural details of The Foundry Gallery.
Teardrops (Rising / Falling), 2022
Site-specific vinyl window installation
2.2 x 1 m
Three views of a durational artwork: late afternoon, shadow details, and evening

Capturing Light included two new site-responsive window installations. The first Teardrops (Interlocking) on the gallery's large front window and the second Teardrops (Rising / Falling) on a large sash window at the rear. Both artworks included a 'teardrop' shape that navigates the proportions of the window frame and is placed in different orientations to create a variety of interlocking forms. The installations were activated by daylight pouring into the gallery casting evolving-coloured shadows. They were presented alongside a series of framed screenprints, ink drawings, and works on perspex. The artworks examined how the use of pattern can create movement and perspective through a variety of mediums. The body of work emphasises the blueprint of Fiona's art practice: interchangeable shapes, contrasting colour palettes, and the use of layers of transparency to create a harmony of lightness, ambiance and colour.

In her essay 'Symphonies in Light and Colour' arts writer Elizabeth Fullerton comments:

Grady's practice is informed by Minimalism. Geometric patterns tend to be her building blocks; the grid is generally her starting point. But as Rosalind Krauss points out so eloquently in The Originality of the Avant-Garde and Other Modernist Myths, the grid is "fully, even cheerfully, schizophrenic", allowing for multiple interpretative possibilities. While resolutely anti-referential and anti-mimetic for Donald Judd, Carl Andre et al, the grid is simultaneously capable of being a "symbolist window parading in the guise of a treatise on optics". As Krauss notes, "The grid's mythic power is that it makes us able to think we are dealing with materialism (or sometimes science, or logic) while at the same time it provides us with a release into belief (or illusion, or fiction)." Grady borrows from both approaches, without being prescriptive about either. In this show "Capturing Light", she presents a series of six mounted prints resembling stained glass windows of different shapes Windows (Old Church Street) I - VI, partly inspired by the window of a nearby church. Her luminous vinyl window installations Teardrops (Interlocking) and Teardrops (Rising/Falling) naturally reinforce this comparison with stained glass, whose purpose was traditionally to prompt spiritual reflection, even if this is not Grady's own intention. Given that she did a residency at the Mark Rothko Foundation in Daugavpils, Latvia, in 2019 and that Rothko considered his grids of gradated colour bands as channels to a metaphysical realm, she is well aware of the spiritual aspect of grids and windows. To me, Grady's semi-transparent window installations feel more connected to humanism, being subject to random elements and the messiness of quotidian life. From the inside looking out, they contend with the traffic and passersby in the street, while the interior scenes and bustle disrupt their "purity" from the outside looking in.


Thank you to a-n for the Time - Space - Money Bursary to support the exhibition research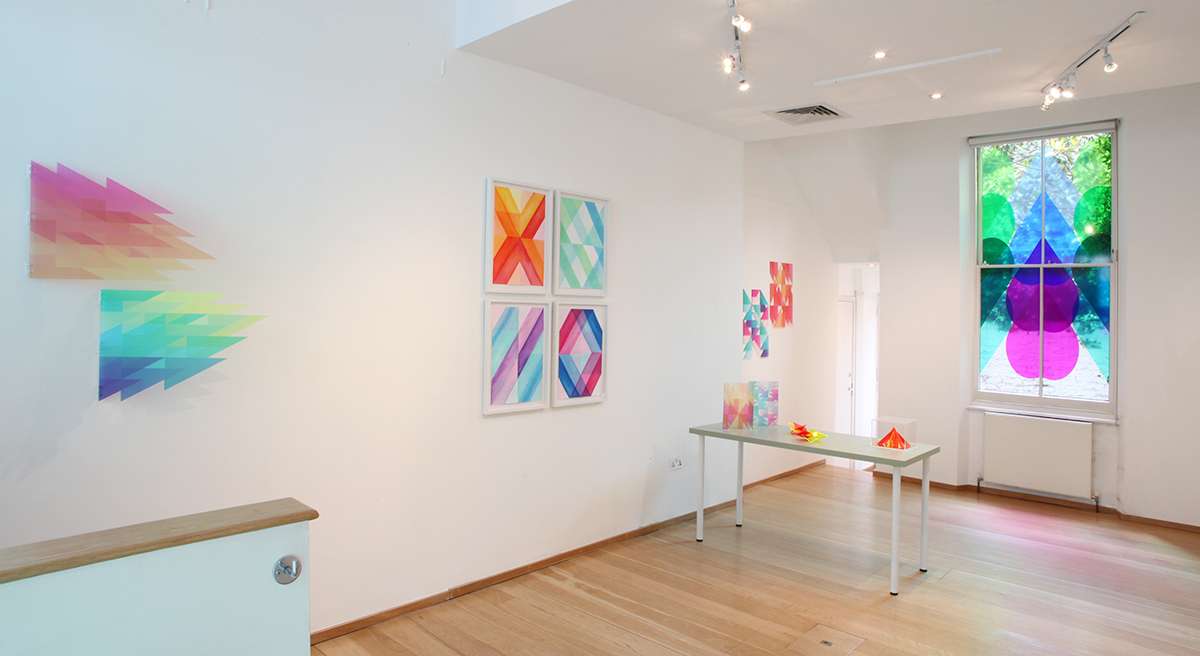 Photos © The Artist and Tessa Newmark | The Foundry Gallery
'Capturing Lights' included two vinyl window installations, a series of framed 'Interplay' watercolour ink drawings, unique 'Window' screenprints, digitally printed translucent perspex panels, and lasercut perspex artworks. Contact us for more details of the works on display.

All content © Fiona Grady 2023