A Glimpse of the East

Artist in Residence Commission at Watts Gallery - Artists' Village, Guildford
June - November 2019

Fiona Grady was commissioned as Artist in Residence for Watts Gallery - Artists' Village to create a series of site-responsive installations taking inspiration from their exhibition
John Frederick Lewis: Facing Fame
. The resulting work
A Glimpse of the East
is a contemporary interpretation of Lewis's depiction of light, pattern and jewel-like colour. For the duration of the exhibition, Grady's colourful installations are displayed in various locations throughout the Artists' Village.
Watts Gallery - Artists' Village is a unique Arts & Crafts gem nestled in the Surrey Hills. Founded in 1904 as the only gallery in the UK devoted to a single artist, Watts Gallery – Artists' Village offers a unique insight into the life and work of 'England's Michelangelo' G F Watts and his wife, the designer and artist Mary Watts. The Artists' Village carries on the Wattses' legacy of 'Art for All' with its historic and contemporary galleries, working Artist in Residence and conservation studios and an extensive learning programme.
A Glimpse of the East, 2019
Handcut vinyl window installations
Dimensions vary

Speaking about the project Fiona Grady said:
I was invited by Watts Gallery to create a series of window installations across various sites within the Artists' Village. My artworks are inspired by the forthcoming exhibition on British painter, John Frederick Lewis, who specialised in Oriental and Mediterranean scenes. His work offers a unique glimpse into the intricately designed interiors of nineteenth-century domestic and public spaces in Egypt. The vibrant colours and architectural structures would have seemed unfamiliar and exotic to the British public at the time. My aim was to capture the sense of wonder in his paintings to transform the windows of the Artists' Village.

I began my project by considering Lewis's artworks in the new exhibition, examining the representation of windows, and painted light. The rich green, blue, red and orange hues in The Siesta and Study for The Courtyard of the Coptic Patriarch's House in Cairo were particularly influential in my choice of colour palette. His works present a lifestyle where the warm climate allows the interior and exterior spaces to exist as one; much like at Watts Gallery - Artists' Village, nature is ever present.

The triangle shapes reference Mashrabiya, motifs characteristic of Arabic residences, with repeating patterns that allow a sense of development on each of the windows. The use of metallic vinyl was particularly important as it mirrors its surroundings, introducing the colours of the Wattses's gardens into the vinyl artworks. The translucent vinyl also allows coloured shadows to be cast in the interior rooms highlighting the vibrancy and beauty of the setting.
Further information about Watts Gallery Artists' Village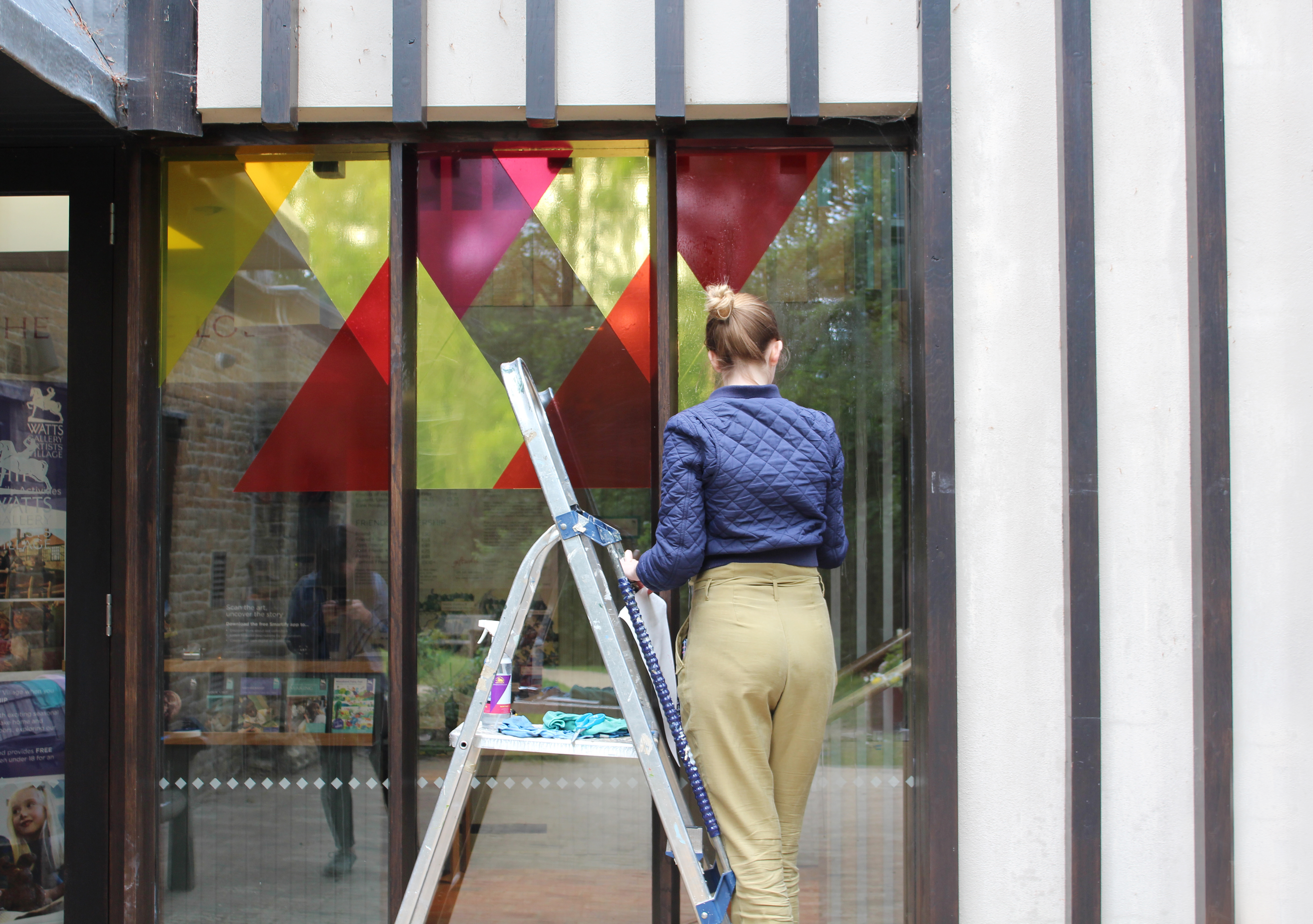 Photos by Dean Brannagan © The Artist
'A Glimpse of the East' the resulting work is a series of interventions created from transparent coloured vinyl and mirrored gold vinyl on the windows of the Sculpture Gallery, Tea Room, Clore Education Space, Summer House and more.

︎
All content © Fiona Grady 2023